Miriam Clancy was born in New Zealand and moved to New York City before eventually making her way to Pennsylvania, a life path that came with its fair share of trials and tribulations. But the indie-rock songstress developed a fondness for her adoptive home state that led her to write a song about it called (fittingly enough) "Pennsylvania."
"I think moving to America blew my mind so much that I went into a little bit of shock, and then moving into New York City to Pennsylvania was like moving to another country again," Clancy said. "I'm doing a little pep talk to myself in that song."
Rachael Sage, an American singer-songwriter based in New York City, got her start in music when her uncle gifted her a 4-track tape recorder for her bat mitzvah. Initially annoyed with the gift, she started experimenting with it, which led her to start making songs, collaborating with students at her school, and ultimately starting a career in music.
"Eventually I figured out how to use it and how to start bouncing tracks – many, many, many bouncings of tracks – until every demo I made kind of sounded like Kate Bush," Sage said. "It was sort of the beginning of my self-education as a recording artist and producer, and it all started there."
Miriam and Rachael started their lives 8,700 miles away from each other, and forged their own unique career paths, but they were together in the Lehigh Valley to perform and appear as guests on an episode of the Lehigh Valley with Love podcast, which was sponsored by Made Possible in Lehigh Valley.
The episode marks the first of many to be sponsored by Made Possible in Lehigh Valley, and the beginning of a partnership between MPLV and Lehigh Valley with Love, both of which are passionate about telling the stories of the people, places, and organizations of the Lehigh Valley, and what makes this region such a perfect place to live, work, and play.
"There are so many wonderful, inspiring, and interesting stories throughout the Lehigh Valley and we're excited to partner with Made Possible in Lehigh Valley to tell even more of them," said George Wacker, owner of Lehigh Valley with Love Media, and host of the podcast. "That includes those who maybe don't share the public spotlight all the time, either. We're interested in continuing to interview and share the people that make the Lehigh Valley so special."
The podcast episode featuring Miriam Clancy and Rachael Sage, which first aired on April 22, was recorded on location at Godfrey Daniels at South Bethlehem. Established in 1976, it is one of the country's last true "listening rooms," a musical venue that emphasizes listening intently to the artists, and providing a space for that artist to discuss their music in depth.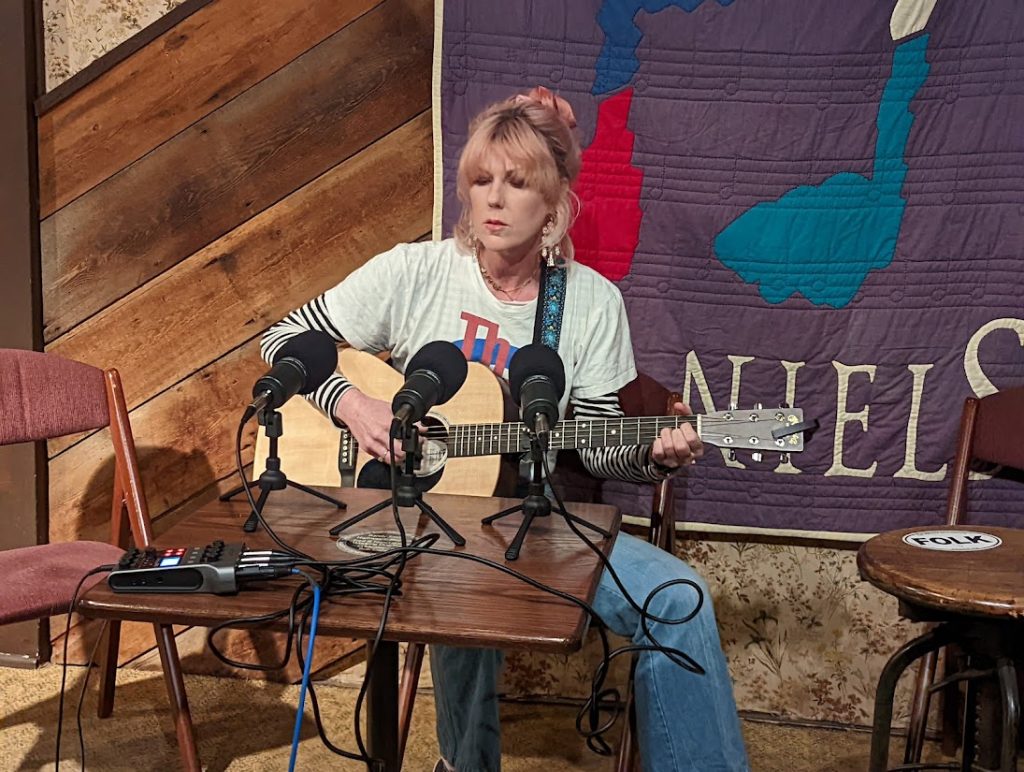 The episode includes a performance at Godfrey Daniels from both artists, including a debut from Miriam and the first time Rachael Sage has played live with her new collaborator named Kevin from Philadelphia.
The podcast also features an interview with both musicians, in which Miriam discusses how it feels to be part of a long line of great Kiwi-based musicians, and Rachael talks about the many hats she's worn in her life, including singer-songwriter, visual artist, former ballet dancer, poet, and more.
Made Possible in Lehigh Valley will be hosting several other Lehigh Valley with Love Media podcast episodes in the coming months, as the two organizations continue to work together to spread the word about the great things happening in the Lehigh Valley and everything the region has to offer.
"Podcasts are a fantastic way to capture stories since the audience is able to listen to them on their own time and terms and devices," George said. "We've been able to go into the community more as well, recording podcasts on location with a guest or just out in the community at a local restaurant or coffee shop."
(photos courtesy Lehigh Valley with Love)