DIVERSE, VIBRANT, AND CARING COMMUNITIES OF ALL SIZES MAKE UP THE LEHIGH VALLEY.
From the downtowns of its three cities to the main streets of smaller communities, Lehigh Valley has the right neighborhood for you to call home and find the perfect place to live. You will find world-class health care, outstanding educational opportunities, affordable housing options in urban, suburban, and rural settings, and more than enough things to do and places to eat. Lehigh Valley is the very definition of neighborhood living.
Top 10 U.S. Markets for Home Buyers between the ages of 18 and 35 *

(*Q3 2019 Generational Propensity Report – National Association of Realtors)
Bethlehem's 18018 ZIP Code Ranks #12 in Realtor.com "Hottest ZIP Codes of 2021" Report*

(*Realtor.com 2021 Hottest ZIP Codes)
CONNECT WITH COMMUNITY
One common thread you'll find across Lehigh Valley's many cities, towns, and boroughs: Community engagement and interaction are as strong as ever. Residents give back through organizations ranging from Main Street development initiatives, local ambassador programs, and volunteer opportunities through diverse places of worship, arts communities, and nonprofits.
You'll also find connections with like-minded groups through networking and affinity programming sponsored by the Greater Lehigh Valley Chamber of Commerce with various business and diversity councils including Young Professionals, Hispanic, Women's, African American Business Leaders, LGBTQ, Veterans & Military, and more. Organizations like the Bradbury-Sullivan LGBT Center take initiatives a step further offering community-driven programming at their brick and mortar location ranging from art gallery openings, performances, movie nights, and more. The organization also hosts the annual Pride festival each summer.
When you're ready to dive in and get involved, consider connecting with some of these groups to establish a network through the region, and the Volunteer Center of the Lehigh Valley can help connect you with organizations that fit your interests.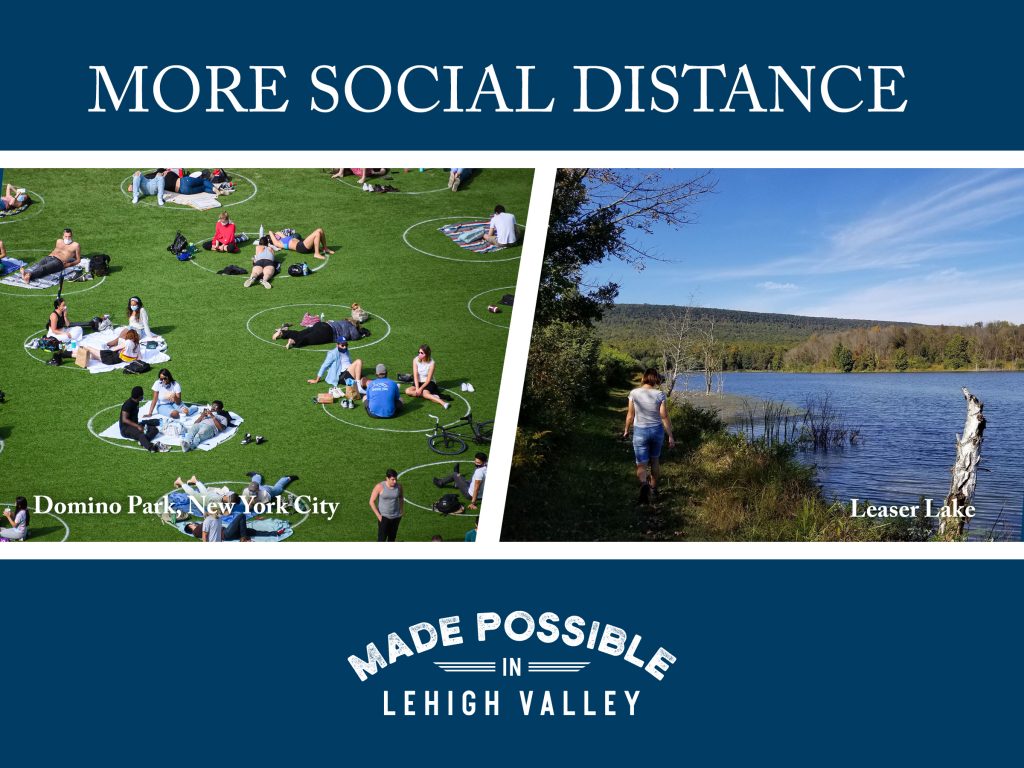 Over the past few months, the pandemic has prompted many people living in dense metropolitan areas to re-examine their living situations. Amid shutdowns, having quick and easy access to open space — or a backyard or balcony at the very least — became a new priority for many. Lehigh Valley offers space to spread out and still remain connected to your job or network in the city.
The region is about 60 minutes from Philadelphia and 75 minutes from New York City, but feels a world away. With three cities and plenty of small towns and rural escapes to choose from, Lehigh Valley offers a little bit of something for everyone. Check out the official Relocation Guide for Lehigh Valley to learn more about life in Lehigh Valley.
FAITH RESOURCES IN LEHIGH VALLEY
There are a host of diverse opportunities for involvement in the Lehigh Valley Jewish community, whether through volunteerism, education, synagogue membership, events for families and more.
The Muslim Association of Lehigh Valley is a non-profit 501c(3) organization, serving religious, educational and social needs of the Muslim community in Allentown, Bethlehem, Easton and surrounding areas.
The Roman Catholic Diocese of Allentown includes all of Lehigh Valley, in addition to Berks, Carbon, and Schuylkill counties. The Diocese includes 83 parishes, 30 Catholic elementary schools, and 7 Catholic high schools across the five county region.
HOUSING OVERVIEW
$275,000 Median home sale price*
$250,000 Median single-family detached home sale price**
$209,900 Median condominium sale price**
$197,500 Median townhouse sale price**
$148,000 Median single-family attached home sale price**
270,143 Housing units
$1,109 Median rent*
$1,450 Average rent for 2-bedroom apartment*
66% Own homes; 34% rent
*Data as of Q2 2021
**Data from 2019-2020
Sources: LVEDC Research, Greater Lehigh Valley Realtors®, Lehigh Valley Planning Commission, CoStar, Census Bureau.
WORLD-CLASS HEALTHCARE
Featuring major health providers including Lehigh Valley Health Network (LVHN), St. Luke's University Health Network, and Good Shepherd Rehabilitation, the region ranks among the best in the nation for a variety of specialties.
Medical students flock to the region to learn from these outstanding professionals:
• St. Luke's boasts the nation's oldest school of nursing and the region's only four-year medical school, partnered
with Temple University.
• LVHN offers its prestigious "Select Program" with USF Health Morsani College of Medicine in Tampa, Florida.
COST OF LIVING
Lehigh Valley is among the most affordable metros its size in the country, and especially the Northeast.
Total cost of living compared with other Northeast metro areas:
19% more affordable than Central NJ
20% more affordable than Northern NJ
44% more affordable than Boston
53% more affordable than Washington D.C.
73% more affordable than Brooklyn
128% more affordable than Manhattan
Compare costs in Lehigh Valley to other regions in the U.S.
Search the perfect place to live in Lehigh Valley