Founded in 1908 in Allentown, Good Shepherd Rehabilitation Network is a nationally recognized physical rehabilitation provider treating people with injuries, complex medical needs, and physical and/or cognitive disabilities. More than 60,000 patients from all over the world come to Good Shepherd each year to treat various conditions including spinal cord injury, brain injury, stroke, amputation and major multiple traumas.
Good Shepherd is making it possible for patients to maximize function, enhance their lives, and find hope through their treatment. The network is a national leader in the use of innovative rehabilitation technology and employs 2,100 associates at more than 70 locations in Pennsylvania and New Jersey. Good Shepherd holds the distinction of being the world's leading clinical users of Ekso Bionics exoskeleton to treat patients with spinal cord injuries and has been internationally designated as a "Center for Robotic Excellence."
Good Shepherd partnered with Penn Medicine in 2008 to form Good Shepherd Penn Partners, bringing together two nationally respected healthcare organizations to provide the region with a continuum of post-acute care that includes inpatient and outpatient rehabilitation and a long-term acute care hospital. Good Shepherd was selected as Penn Medicine's partner over several organizations because of its expertise in long-term acute care and rehabilitation and for its successful experience with health-care partnerships.
They are among the nation's "Best Physical Rehabilitation Centers 2020," according to Newsweek magazine, ranking fifth overall in Pennsylvania and best in the region.
Even with all the awards and anecdotes to their name, their patients still tell it best. When Monique Jones first arrived at Good Shepherd, she couldn't walk. Today, she drives, attends school and works toward her goal of walking unassisted. "I feel like without [Good Shepherd], I would have never known that I can have an even better life than I had before." Check out Monique's recovery story here.
Health care jobs in Lehigh Valley
Health care and social assistance is Lehigh Valley's biggest employment sector, with nearly 60,000 professionals employed locally.
Great health care also happens to be one of Lehigh Valley's strongest quality-of-life assets, providing residents and companies with immediate access to some of the nation's top hospitals and health networks in their own backyard. To top it off, you'll be surrounded by world-class healthcare providers offering everything from general practice to specialized surgery, rehabilitation, athletic performance training, and more.
Good Shepherd differs from the other major health networks in Lehigh Valley because it focuses specifically on rehabilitation medicine, and partners with the acute care hospitals to provide treatment for patients who require significant ongoing rehabilitation needs after leaving the hospital.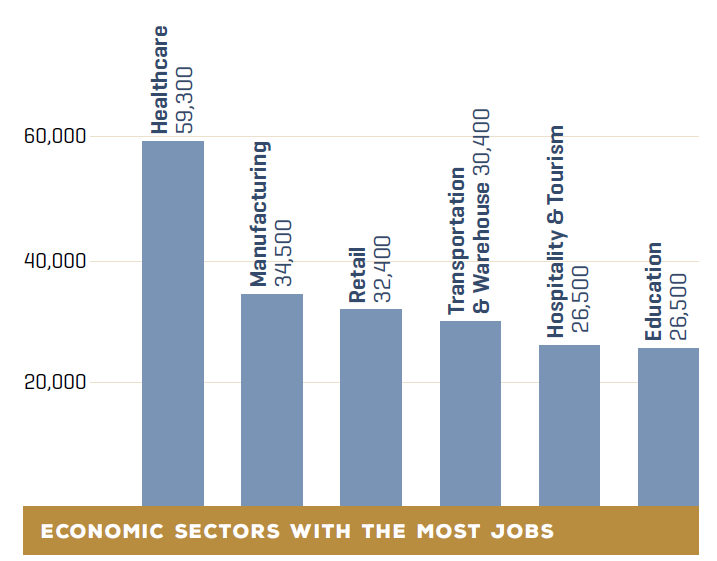 Hear from some of the Physicians who make it possible
Hear from Good Shepherd Rehabilitation Network's President & CEO, Michael Spigel
Michael Spigel was recently named President & CEO of the network, bringing with him a long and distinguished career in rehabilitation medicine. He previously worked for health care providers in St. Louis and Sacramento, and was most recently President & COO of Brooks Rehabilitation in Jacksonville, Fla.
Spigel discussed his philosophies on patient care and leadership, getting acquainted with the Lehigh Valley as a recent transplant, his boxing workouts, and more during an executive interview with LVEDC.
"The most intimate things we do – whether it's through nursing staff, nursing assistants, therapists – are done by a person for and to another person. We serve people through people, and in order to serve people at the highest level, it's incumbent upon me to create the atmosphere and environment that employees feel respected, they feel recognized, they feel appreciated, because by that they will do their best work."

Michael Spigel, President & CEO. Good Shepherd Rehabilitation Network