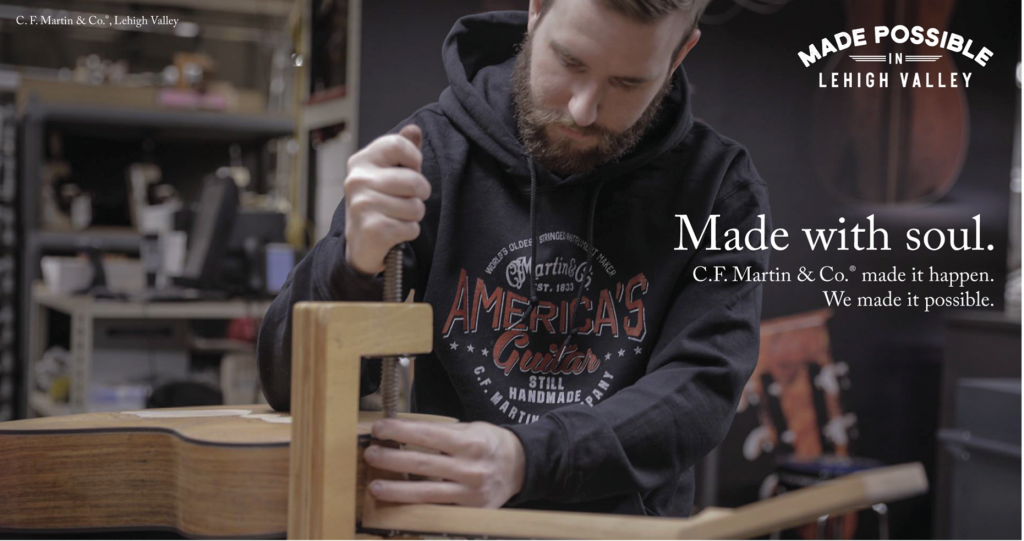 Musicians around the world recognize the C.F. Martin & Co. family of instruments and strings for their superior sound, quality, and craftsmanship. The most well-known of these instruments is the acoustic guitar, played by famous artists for more than 180 years. Their products that can be seen and heard across all genres of music and in all segments of pop culture, from concert and theater stages to television and movies.
What many of these music lovers might not realize is that the company's headquarters and main manufacturing facility have been in Lehigh Valley, Pennsylvania since 1839.
Have you ever wondered why The Band pulled into Nazareth in the first place? The lyrics pay homage to Nazareth, a town in Northampton County and home of the legendary guitar maker. The Martin Guitar Factory offers free tours where visitors can witness the process and learn about the guitars, which are still handmade by the passionate and talented artisans at Martin. Aside from certain aspects that were improved by technological advances over the years, most of the guitar is still created and finished by hand by some of the company's 500+ employees.
Martin Guitar also has an unwavering commitment to environmental sustainability and responsible manufacturing processes. In addition to ensuring that each guitar they make is responsibly sourced, they also minimize waste and use "imperfect" wood to create other instruments and "alternative" woods. They were the first company in the musical instruments industry to receive the prestigious B Corp certification, which recognizes companies that use business as a force for good, meeting the highest standards of positive impact on society and the environment, and focusing just as much on people and the planet as they do on profit.
"Protecting the environment and all of its precious resources has been at the forefront of my family's business since its inception."

C. F. Martin & Company Chairman and CEO, Chris Martin
In 2019, Martin Guitar announced plans to build a new 200,000 square-foot facility in the Chrin Commerce Centre. "The reason Martin Guitar is continuing to invest in the Lehigh Valley are really the same reasons that drew its founders to the Lehigh Valley in the first place 180 years ago," said Nathan Eckhart, Chief Financial Officer at Martin Guitar. "That includes the area's proximity to major markets, the workforce of craftspeople that we value, and just the many wonderful resources the area offers."
Manufacturing is the second largest employment sector in Lehigh Valley, with more than 34,500 people working in the industry and contributing $7.3 billion to the region's GDP. Lehigh Valley is also home to other nationally-renowned manufacturers, including B Braun, Lutron Electronics, Crayola, Mack Trucks, Victaulic, OraSure, and Just Born (Peeps).
Learn more about the manufacturers that call the Lehigh Valley home.