John Fistner, President & CEO
Born and raised in Fountain Hill, John Fistner attended Bethlehem Catholic before pursuing his undergraduate degree at Lafayette College ('00). John stayed local to pursue his graduate degree at Lehigh University ('04), receiving an MBA in Finance while working at Coordinated Health (now part of Lehigh Valley Health Network). He served in multiple roles there, including CFO and COO, until he left to pursue his entrepreneurial ambitions in 2012.
From his experience in leadership at a health system, John witnessed firsthand certain inefficiencies in healthcare and set out to create companies to solve them. He launched AblePay Health in 2016 to streamline the hospital billing process for patients and providers. AblePay Health is his third successful start-up with both previous ventures still in operation. 
AblePay is a unique and innovative program that addresses what many of us are dealing with as individuals, employees, and as employers; how to diffuse the rising costs of out-of-pocket medical expenses. As a healthcare consumer company, it helps its members by providing savings, flexible and convenient payment options, and the necessary support to help navigate the complicated process of medical billing.
It would have proved difficult to get the company off the ground had it not been for the relationships and community John found in the Lehigh Valley. The first health network to participate with AblePay was St. Luke's University Health Network, followed closely by Lehigh Valley Health Network, before expanding beyond the Lehigh Valley and bringing in Penn Medicine Lancaster General Health, Main Line Health, and Grand View Health, among others. AblePay recently obtained its first contract outside of Pennsylvania and will now be providing services in Ohio. In total, the current AblePay provider network includes 42 hospital campuses and over 1,100 specialty provider offices, covering 20 counties in Pennsylvania, New Jersey, and Ohio.
How does AblePay Health work?
AblePay is a no-cost program that provides savings (up to 13%) to their members on out of pocket medical expenses (deductibles, coinsurance, and co-pays) along with helping them navigate the billing system. AblePay members have the flexibility of paying over one, three, six, or twelve payments- the ability to pay quicker results in greater savings. It works with any primary health insurance, even Medicare and all healthcare consumers are eligible to take advantage of the savings.
In addition to helping consumers pay their medical bills, AblePay secures answers any time a member has a question or an issue with a bill. AblePay advocates on behalf of its members, contacting the providers billing office on behalf of the member or even negotiating out of network claims for members. "Our advocacy program has become a bigger and bigger part of what we do every day.", said Fistner. "We pride ourselves on our customer service, and our members know we are available and willing to do whatever we can to assist them with the billing process."
The question everyone always wants to know… how can the program be no-cost? The answer is quite simple if you know what is occurring with healthcare providers, not only locally but across the country. As medical costs have skyrocketed, patients have been unable to pay their personal responsibility after insurance. As a result, providers are only collecting between 20-40 cents on the dollar on the patient's out-of-pocket costs. AblePay is paying providers up to double what they are collecting now with guaranteed payment in 14 days. They share part of the discount with members and keep a small percentage to fund the business, with no additional costs or hidden fees. The program benefits both the healthcare consumer and the medical provider, with AblePay acting as the conduit between the two and the community.
Why did this work in Lehigh Valley?
Healthcare is the largest employment sector in Lehigh Valley and a huge part of the local economy, employing nearly 60,000 individuals and contributing billions each year to the region's GDP. It is also one of Lehigh Valley's greatest quality-of-life assets, providing residents and companies immediate access to some of the nation's greatest hospitals and health networks in their own backyard.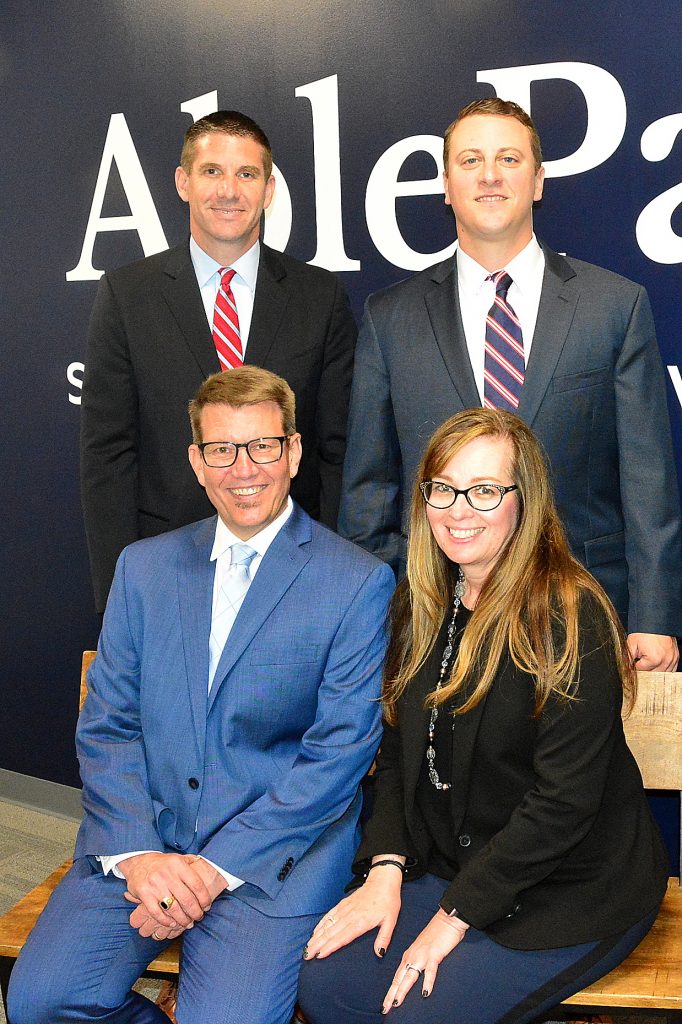 "It's very meaningful to me to have the company be based here in the Lehigh Valley. I wanted to create something that would not only contribute to the economy that I was raised and educated in, but that also makes a difference in the lives in the community that my family continues to be a part of. It's a privilege to do that every day at AblePay.", said Fistner.
The company has tripled the number of employees since 2017 and has over 20,000 members with that number growing every day. In addition to having secured their first out of state provider with the health network in Ohio, they expect multiple new markets to roll out by the end of 2020.
"The resources to help grow the business and make connections to the community throughout the Lehigh Valley have been immensely helpful. The connections fostered locally have allowed us to develop this new concept, bring it to life locally, and now roll it out on a national basis. The Lehigh Valley community has played an integral role in helping AblePay expand and continue to experience unprecedented growth."
John and AblePay made it happen. Lehigh Valley made it possible.